It is our great pleasure to present you our new project, the site of Kontogianni Maria, one of the largest traders of agricultural machinery in northern Greece.
Like any of our complete products, we provided the following:
Modern design that is responsive on all devices (mobile, tablet, phone)
Updated logo from bitmap to SVG graphic
Convenient easy-to-use management system with access given to the customer to register machines, spare parts, articles also accesible via mobile.
Bilingual from it's core (without external translations that have a cheap look)
Ability to leave comments
Newsletter supoprt
Ability to export listings to at least 3 ad listing portals automatically
Watermark per photo
Automated backups
Uptime monitoring alerting system
Adds connected with mascus.gr
And much much more …
With the ability to automatically export entries to multiple sites, you get rid of the headache of uploading the same entries over and over again.
Visit the website at http://www.kontogianni-tractors.gr
Imadra Media, being part of Mascus with more than 10 years in the field, understands listings, websites and auto/agricultural dealers better than anyone else in the market.
Are you a dealer looking to step up and organize your business? Are you interested building your next top class website with us?
Contact us today.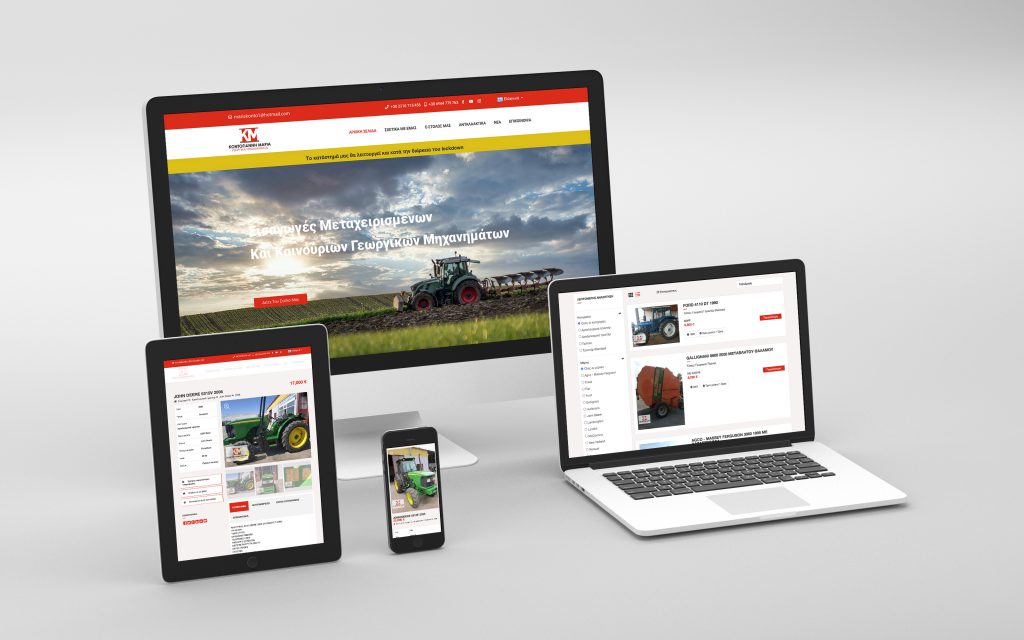 Με μεγάλη μας χαρά σας παρουσιάζουμε το νέο μας site της Κοντογιάννη Μαρίας, ενός από τους μεγαλύτερους εμπόρους γεωργικών μηχανημάτων στην βόρεια Ελλάδα.
Η κατασκευή κάθε site παρέχει τα εξής:
• Μοντέρνο σχεδιασμό που παίζει σε όλες τις συσκευές pc, tablet & mobile
• Άνετο εύχρηστο σύστημα διαχείρισης με κωδικούς που δίνονται στον πελάτη για να καταχωρεί μηχανήματα, ανταλλακτικά, άρθρα κλπ
• Δίγλωσσο από τον πυρήνα του (χωρίς εξωτερικές μεταφράσεις)
• Δυνατότητα εξαγωγής των αγγελιών σε 3 τουλάχιστον portal όπως: Mascus.gr αλλά και σε όσα ακόμα μας υποδείξετε
Και πολλά πολλά ακόμα.
Με την δυνατότητα εξαγωγής των αγγελιών σας αυτόματα σε πολλαπλά site, γλυτώνετε χρόνο και χρήμα από το να ανεβάζετε ξανά και ξανά τις ίδιες αγγελίες.
Επισκευτείτε την ιστοσελίδα στο http://kontogianni-tractors.gr/